edit: I can't believe that I didnt' say this, but to CatMaster3000, I am really sorry for your loss! You had a beautiful relationship with Kitten, and I hope that she is happily chasing stars in the sky and looking down at you.
Stories have words, but have those words ever caused you to look deeper into its soul to find why it was written in the first place? As a writer, I can tell you that there is always an underlying motive that causes words to flow out into sentences. The trigger is always an emotion that drives my thoughts into bouts of frenzied typing (writing, any way that allows me to produce the words that fight for light).
We live in a world that is full of emotion, but it's not always driven by soul. As a matter of fact, there is a distinct soullessness that permeates the shiny exterior we all cherish. That exterior is fashioned by the drive for beauty, but the undercurrents flow with something else altogether. So, when I saw this post on Reddit, I knew that it would be a worthwhile journey. Note [deleted] because it's important in today's world: When those corporations who are people can make you afraid to speak out loud, then you know that the world is going down a road full of sinkholes and it won't get better until life is fixed!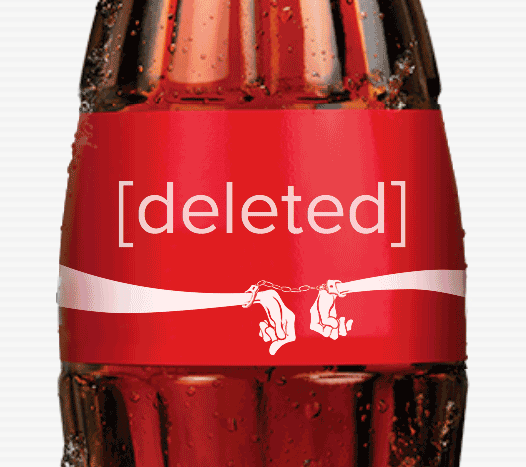 It's always so easy to follow the beauty of advertisements because that's kind of what they're made for. But sometimes, just sometimes, another perspective can turn all of that beauty on its head. Status quo loves to tout all of the good that comes from following what is accepted by the majority. But have we ever really tried to see it from the other side? If you've never traveled outside of your sphere of existence, then you wouldn't know that there is an underbelly to our world driven by commerce. Lately though, it seems like it's becoming easier to see that the reality of life is screaming for our attention, to fix all of the injustices which are being ignored because of whatever reason status quo has to offer.
This particular image strikes at the heart of the matter. Some people try to shine light on all of the accepted ugliness that we no longer challenge, until we are personally affected by it, because that's how the truth is uncovered.
Have you listened to the words coming from the mouths of our leaders and institutions of late? It always sounds so pretty, until we see the actions that follow. Those are pretty ugly, because they belie all of those pretty words that have no substance. I don't know about you, but I've had to look harder to find people who are worth paying attention to. Perhaps that's why people flock to blogs like this because they are looking for depth behind beauty. No, I'm not saying that I have such to offer, just that I'm trying to find examples to tout just as much as you all are. And on that note, I do continue to appreciate those who drop in (especially those with comments directly related to what I'm writing about), though I'm still unsure whether you mean your words or if you're looking for a reward for your efforts? I still continue to hold hope that some of you are driven by the same inspirations that keep me delving into our incredible universe – and just want to share in the journey.
Life shouldn't be about the pursuit of rewards. It shouldn't be about plaques on a wall, glory being plied in public, or anything remotely associated to the superficial garments that we all wrap around ourselves because status quo tells you it's a requirement. In truth, it really isn't in order to experience the fullness that all of life has to offer.
Take CatMaster3000's story about his Kitten. I have never seriously cried as much as I did going through their story, and others were just like me. If you have a companion who is different from you (read: non-human), then I tip my hat to you. I've never had a pet family member because we moved so much. Right now, I have friends who pop into our backyard to nibble, meow, and be cuddled until they reach their limit, and even that is killing my heart. I don't know how pet "owners" (I know it's the other way around) do it, because your heart takes a real beating.
How about the story about YMCA Encinitas, where two of its former boardmembers wanted to stand up for the kids who would suffer from their company's new desire to only serve families and not individuals. It's refreshing to see people who fight for more than bigger profits for less efforts. Perhaps all the news are telling you that our institutions of yesteryear are no longer qualified to be the leaders that they still claim to be.
And did you watch the rage-inducing show from Rachel Maddow regarding the recent news cycle:
It was enough for me to have a permanent vein popping in my head. And to think that these are the people that we are supposed to follow and respect. If it hopefully awoke something inside of you that wants you to fight what status quo is offering, then your heart and soul are still working as they should.
There are so many people out there who are tired of waiting for change to happen, who don't believe that voting holds the answers, who realize that we all need to DO instead of follow in order to reach a new standard of excellence. We need a standard that isn't so worried about its golden (ok, it's probably platinum or titanium now) sheen, but is aiming to really find the real power to lift those who have fallen towards a life-giving light. So my advice to you is to not respect someone because of the uniform that they wear, but because of their actions that moved you. Whether it's a artist (just go through this blog to find some of my inspirations) or a musician (OMG, have you listened to Alisa Weilerstein) or even a writer whose heart rises above numbers (yup, I'm talking about Umair Haque), there are people out there who can move status quo towards the stars.
Because until you're actually feeling like you need to change and grow while investigating all that life has to offer, you're not looking deep enough. When you're bleeding from the heart and your soul is joyfully dancing, then you know that you're on the right path.
-oh and I also found another inspiring magazine (verynearlyalmost) that covers street art and much more with some amazing writing – just thought you should know