Update: oops – I just noticed that you need to go to Vimeo to watch this. It's worth it!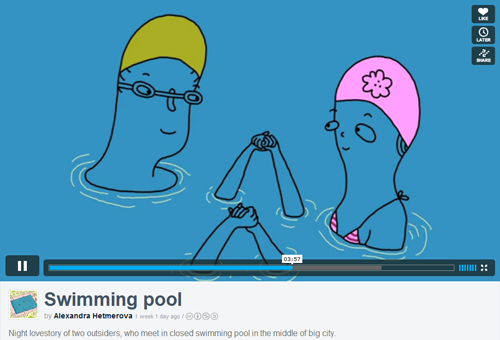 This seemed like a good video to share, considering the heat that many of us are going through. Man, it's not even summer yet and I'm already melting. Yes, I'm a cold lover who is feeling trapped in the heat.
Until I saw this sweet little love story that takes place in the still of the night…at a public pool…with a most unexpected pre-ending. Oh, I did not see this coming in this plot. It was brilliant. It was adorable. It was mythical. I hope that you enjoyed it as much as I did.
The Czech animator, Alexandra Hetmerova, has gotten a lot of well-deserved accolades for her work. It's time to go check out her portfolio to see what other flights of whimsy she's created. I personally laughed at all of them, but loved the Wolf and Little Red Riding Hood. Quirky delightful twists that bring the fun back into fairy tales. Very nice!
- thanks Vimeo for the delightful little story