This is going to be a post with a dual purpose. First and foremost, a celebration of an incredible New York illustrator by the name of Kyle Stecker. This is one of his pieces, "bid-ness as usual" showing in his portfolio on Behance. Do yourself a favor and go check him out on Behance and on his own site! You'll see why I want to celebrate his creations. There is strength in these lines, as well as some powerful visual commentary that wants to slap us awake.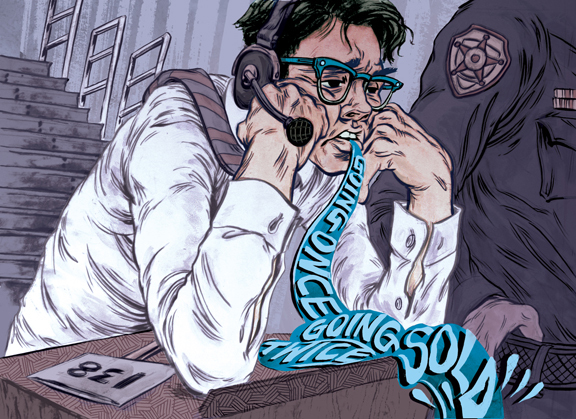 As for the second intent of this post, well, it's to continue on with the topic of deep thinking about our independence – or should I say lack there-of. The 4th of July is definitely a big holiday in the US, but it feels as though we've forgotten why we celebrate this historic event. Our politics tells us that we should trust "bid-ness as usual", but I know that there are a lot of people who are no longer inclined to do that. Why would we when we are living on the pits of the decaying fruit of (what we thought was) independence? Even Kyle here captures the lack of spirit that we've all been feeling in regards to how life is being led.
Another person who's been pretty eloquent on the subject is Umair Haque. If you follow him on Twitter, then you know that he's been going pretty insane with our current historical trend that is falling faster than a flaming meteor. If you want to hear what he's been thinking lately, then check out his video:
Just check out non-mainstream sources to find that there are so many more people just like them who are non-believers in "bid-ness as usual". If you've read my own writings, then you know that I'm among this group that is struggling under the weight of status quo. But what you can't say is that any of us believes that we can't change it all. Because we do believe that there is something much better: a "bid-ness NOT as usual".
There are millions that are making their collaborative voices heard whenever they see injustice and imbalance.
Its joint efforts resulted in four boys being suspended for verbally torturing their bus monitor.
It also is working to stop the injustice against the digital domain (aka the Internet) by our politicians and entertainment lobbyists with SOPA and PIPA, and is continuing with ACTA and TPP (and on and on and on, because these greedy politicians just won't stop).
It's still going on with hundreds of citizen organizations that are working to give hope to the poor and suffering through crowd-sourcing efforts and more.
It's pushing back against the corruption and intolerance that is everywhere.
And best of all, it's millions of people willing to collaborate with one another to make something much better than what we've got. If there's a will, then they'll find the way. I firmly believe that this should be what we are celebrating this 4th of July.
Independence of mind, body, and spirit standing against "bid-ness as usual". Our forefathers fought, just like those brave protestors around the world are fighting, to bring about a new world. One where our lives mean so much more than just two-dimensional numbers. We are three dimensional, people. We need to start acting out ALL of our dimensions to disrupt the mundane and un-inspiring status quo. Just follow those colorful characters who are already clearing the path for the rest of us to follow. Or better yet, do something extraordinary yourself. Let's turn status quo on its head!
Now that would be an independence celebration that we could all get behind, don't you think?