How can you seriously not relate to this image of Crembo, the world's most patient Chocolate Lab.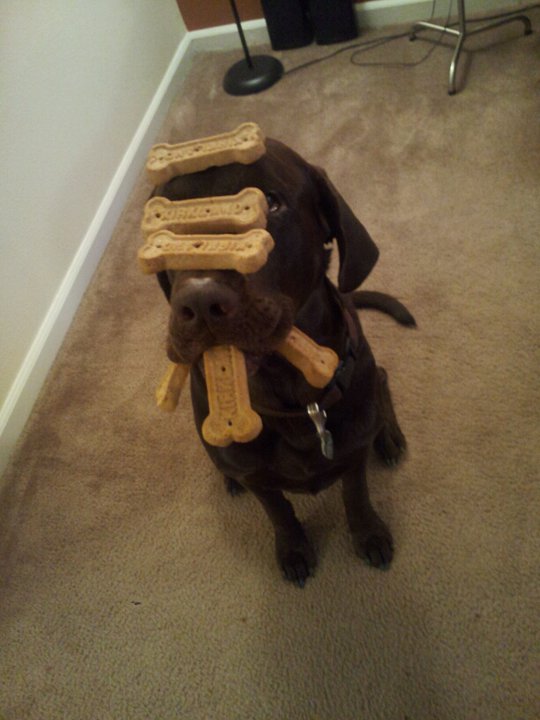 Yep, some days, this is what it feels like! All of it…
p.s. I saw the most perfect comment from gbimmer on what goes on in a Lab's mind (ha ha, too funny):
OMG! A BALL!!! OH LOOK! SQUIRREL! OMG THERE'S A BALL IN MY MOUTH HOW DID IT GET HERE?!?! THERE'S MY MASTER! I'LL GIVE HIM THE BALL AND HE'LL LOVE ME FOR EVER AND EVER ANDEVERANDEVERAN… SQUIRREL!
THROW THEBALLTHROWTHEBALLTHROWTHEBALLTHROWTHEBALLTHROWTHEBALLTHROWTHEBALL! I'LL GET IT!!!! GET THE BALL GETTHEBALLGETTHEBALLGETTHEBALLGETTHEBALLGETTHEBALL! I GOT THE BALL! WHERE'S MY MASTER? THERE HE IS!!!! RUN TO MASTER RUN TO MASTER RUN TO MASTER! HERE YOU GO MASTER YOU DROPPED THIS AND I GOT IT FOR YOU AND I RAN TO YOU AND NOW YOU HAVE IT! THROW THE BALL THROW THE BALL….

And it just keeps going on from there until they pass out.
Thanks again Reddit for the pick-me-up!