Isn't this image of the insides of the Hagia Sophia absolutely breathtaking (thanks Wikipedia for the image, for the history, and for finally teaching me how to say the name properly)?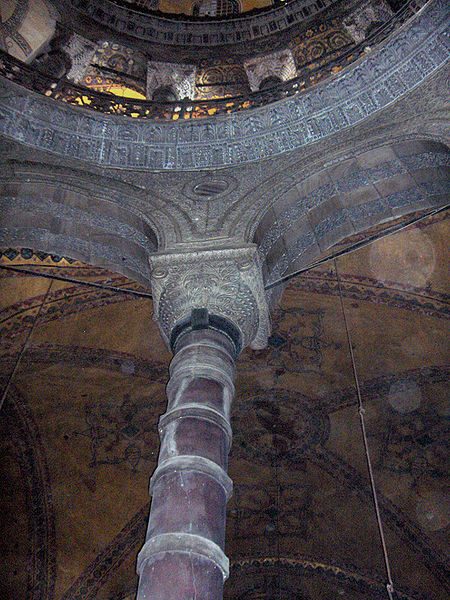 Today, a friend showed me some pictures of Iran and Istanbul, and I was in awe at the beauty of these lands. I know about Istanbul because I'm infatuated with the ancient history, but the images of Iran opened my eyes. I've always loved to travel, and am now chomping at the bit to visit the many, many countries that I have yet to experience. I still haven't even broken double digits in the number of countries that I've had the opportunity to visit. One of my favorite writers, Chris Guillebeau, is almost finished with his mission to visit all of the countries in the world. I am so envious, though I know that only I can make the next move.
While I was talking to a few people, I started to realize that I am just as guilty as others in carrying prejudices caused by misinformation. Considering that I'm a multi-cultural person (I also talk more about it here), I'm actually upset with myself. Lately, race has become a fire starter, and I wish that there was a way that we can turn around all this misinformation into something more beautiful and empowering.
I was telling them a story about my first experience of Mexico (well, the border sign) and my impressions that had been tainted by lots of rumor and bad advice to the point that I was afraid to cross the border. It's crazy how many of us are held hostage by fear because we only listen to other's words without direct experience. Though, I've visited Mexico a few times since then, I still have yet to go to the places that I want to visit (like Chichen-Itza and Palenque). And my list is getting longer and longer, now that I've seen my friend's images. I want to learn about these cultures first hand, so that I can pick out the right information from the wrong.
But my biggest dream of all is that we all can be proud of our heritages, but not have to be labeled by them. As I mentioned, I spent my earlier years having to chose "other" from a list of nationalities on any government form I had to fill out. Frankly, this makes you really despise the idea of national labels. Every country on this planet has a unique and vibrant history that is part of the story of mankind. Each one of these stories is an important part of the whole picture of Earth's inhabitants.
We need to get over labels, and start to get to know one another. Be able to visit other countries without having to deal with prejudices. We've got enough problems in this world, and the issue of race should be a non-issue. Be proud of your history, but don't see it as the be-all, end-all of who you are. You'll still have experiences that will make you into a better person, if you let them broaden your horizons. It's a big, big world out there, and people everywhere deserve to be looked at individually – and not by their appearances.
just saying…
p.s. This is my way of apologizing to anyone if I've ever seemed insensitive on the topic of prejudices. Because I'm a mutt (and proud of it), I absolutely don't like topics that separate, so you can imagine how I feel about racism and prejudice. My mixed ancestry makes me proud of many countries linked to me by blood, but I still feel that I am a person of the world. I have no one specific land that I call my home. Earth is my home and I want to experience every square inch of it. That's just a small part of my bucket list. Because I want to find a way to move past these topics that divide and overcome differences.